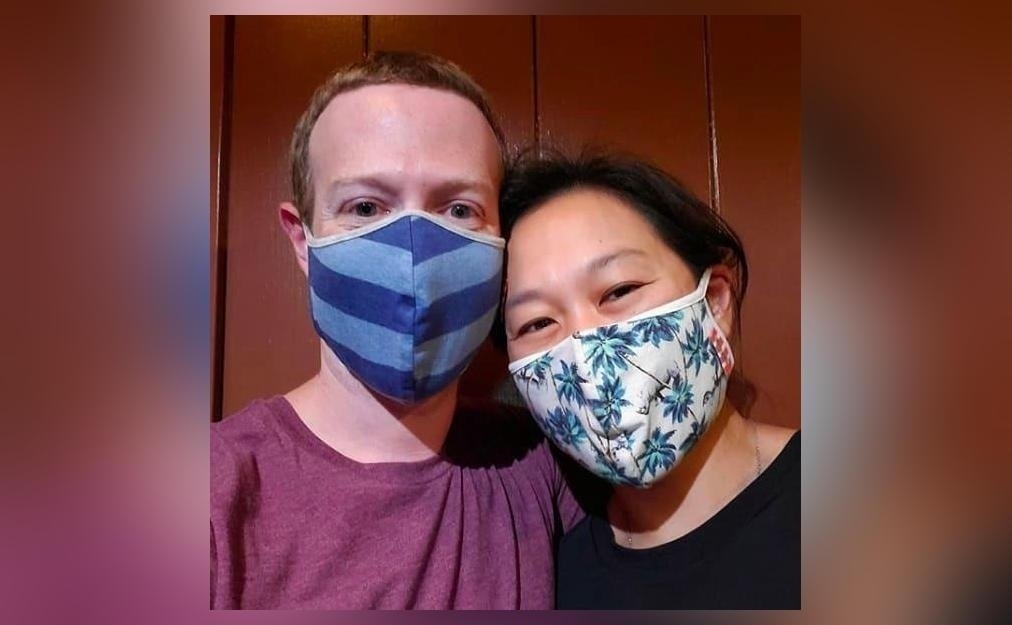 Zuckerburg & Chan, before
Jan 23, 2017:
Meta acquired by Chan Zuckerburg Initiative (CZI), the Initiative's first acquisition, including the Meta.com domain, which now contains invitation to Reserve your friend account on Meta.Org: "Meta uses AI to analyze and organize all biomedical research, so you never miss out."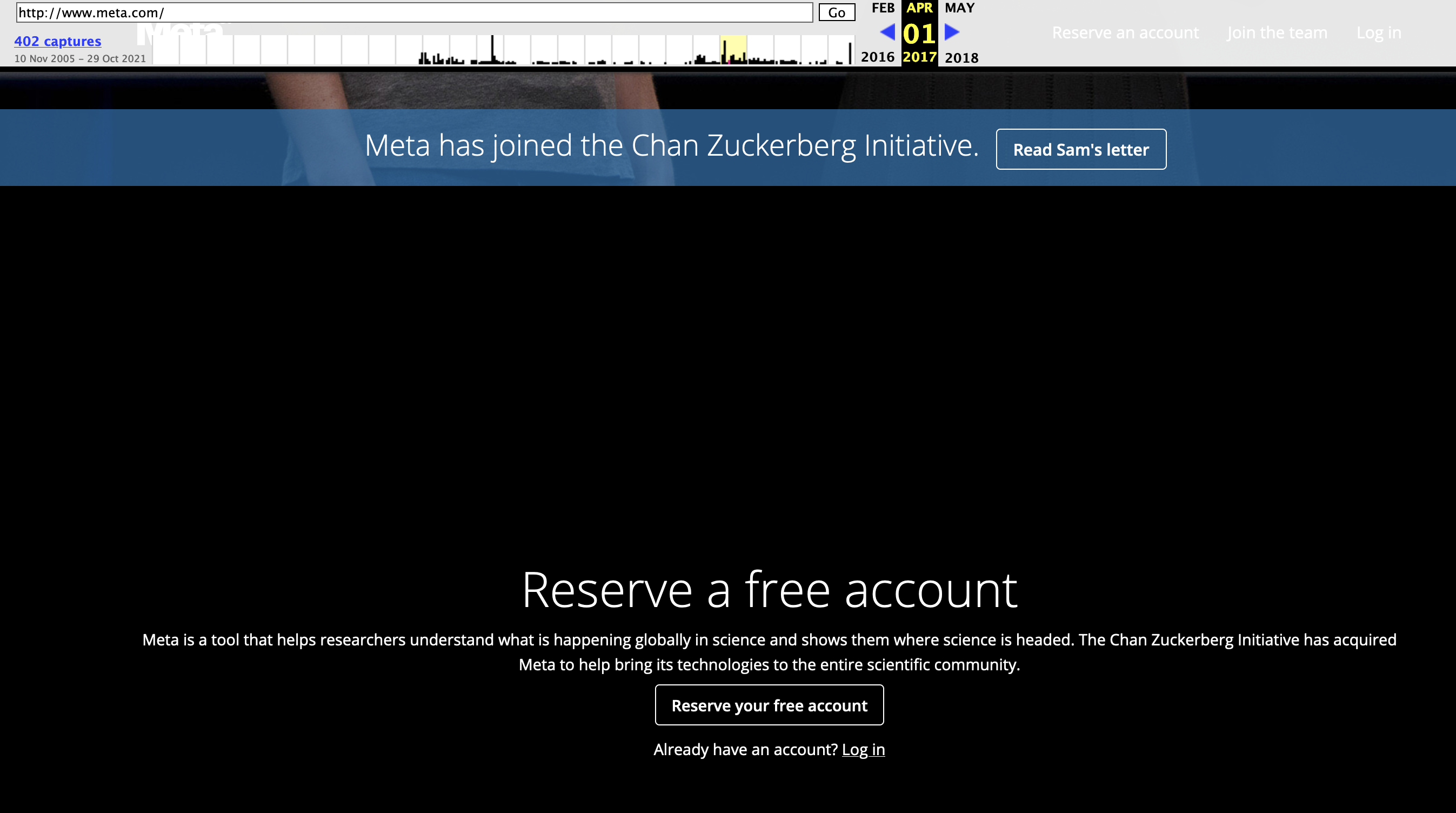 Feb 2019:
Meta.com now redirects straight to meta.org, which still merely contains a waitlist signup. They claim: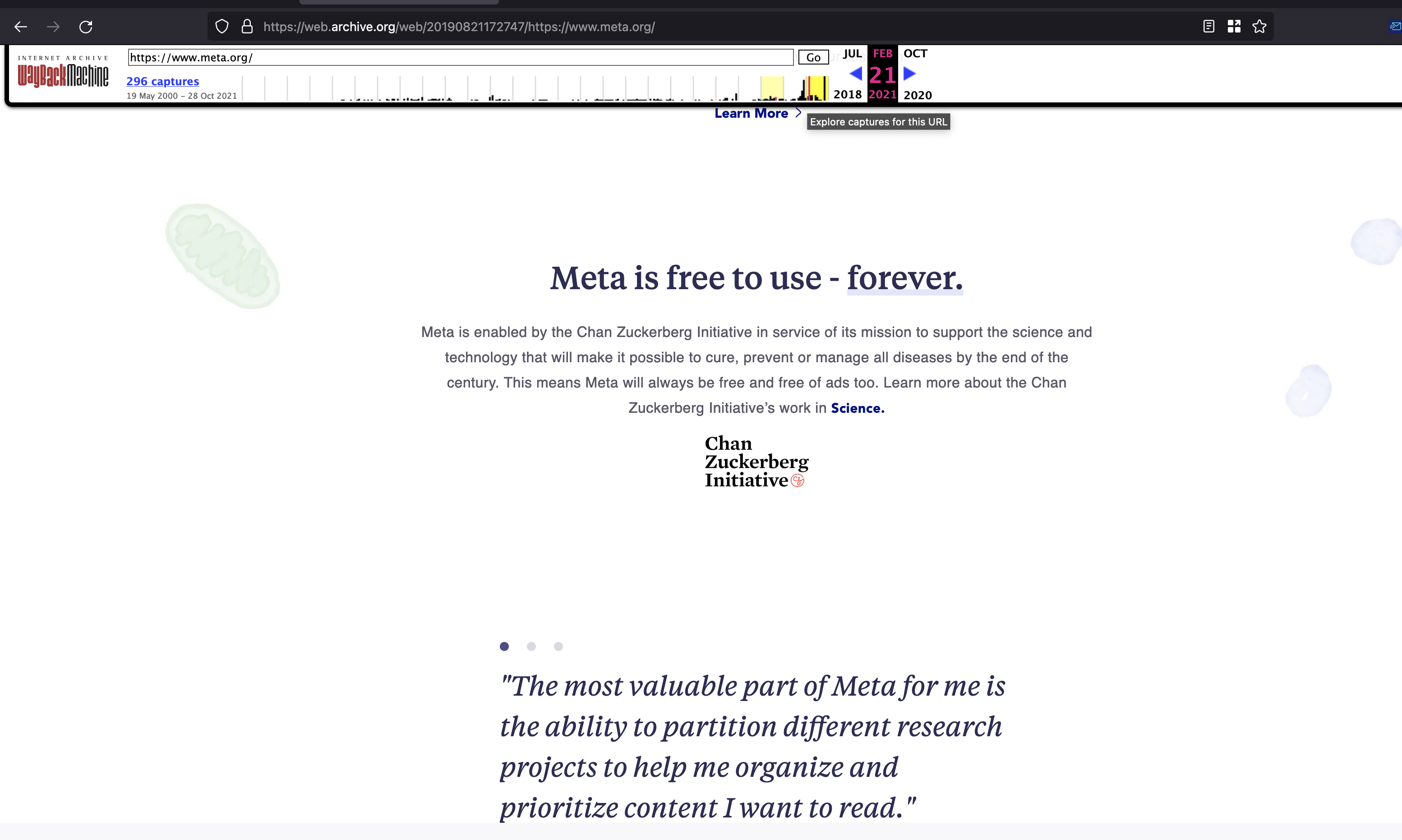 Aug 2019:
It's still on waitlist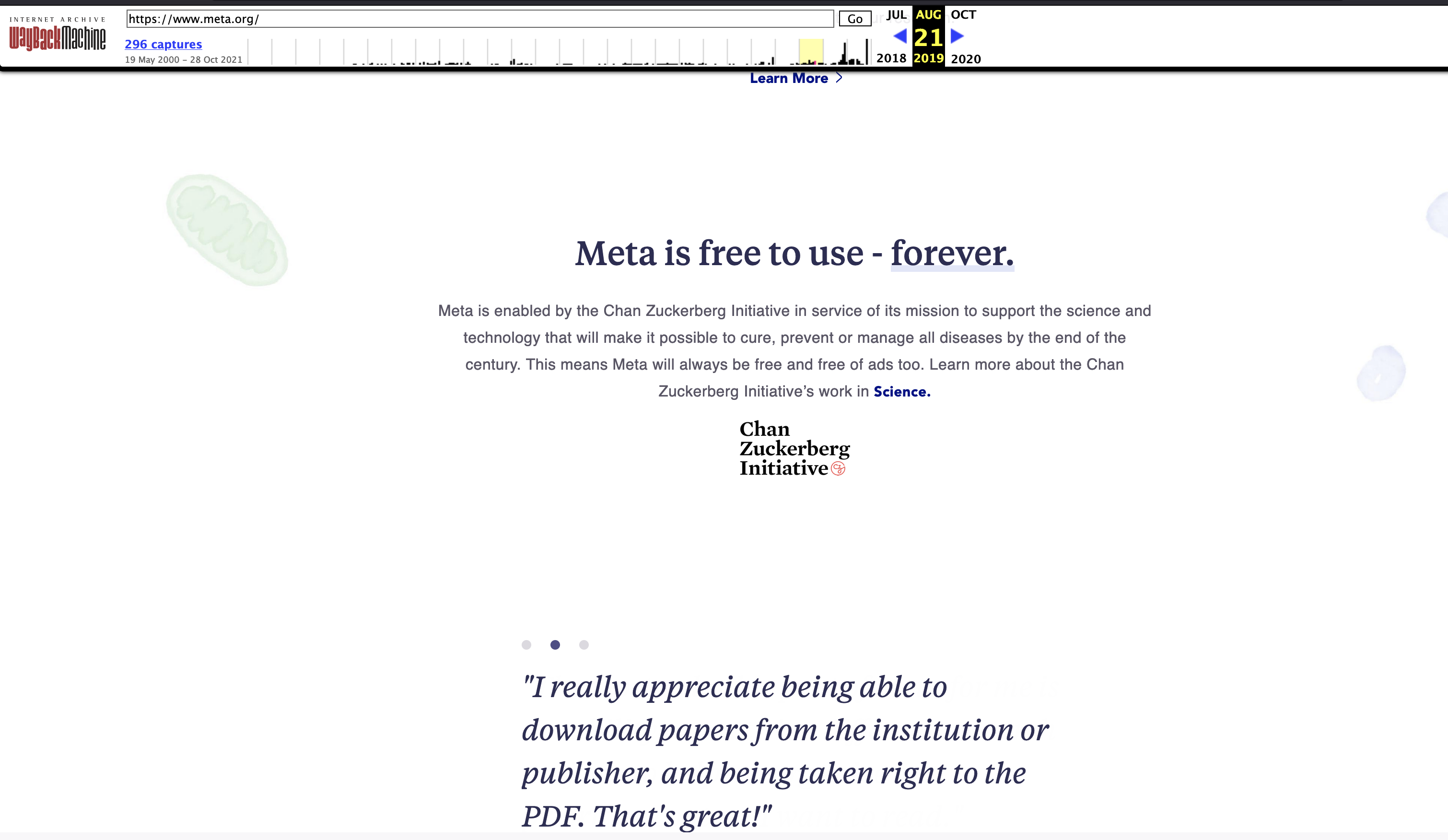 The only thing Meta seemed to be forever was in-development!
Late 2019-2021:
Meta.org finally launches, after 3 years, again with the salient promise:
Meta is ad-free and free to use, forever.. Backed by the Chan Zuckerburg Initiative
It seems to have been worth the wait. The right problem for the right time: just on the eve of the Covid pandemic, in which many of the breakthroughs (e.g. BioNTech vaccines) did come from innovative researchers drawing from diverse research streams in biomedicine.
I'd love to hear from any researchers who've used the platform, and whether they think it will be sufficiently replaced.
Oct 27, 2021:
Less than 2 yearr after launching, CZI decided to close down Meta.
Meta.com starts redirecting to about.Facebook.com/meta, because Zuck is rebranding Facebook Inc. as Meta Ventures Inc.
On Meta.org, CZI write a Sunset Article: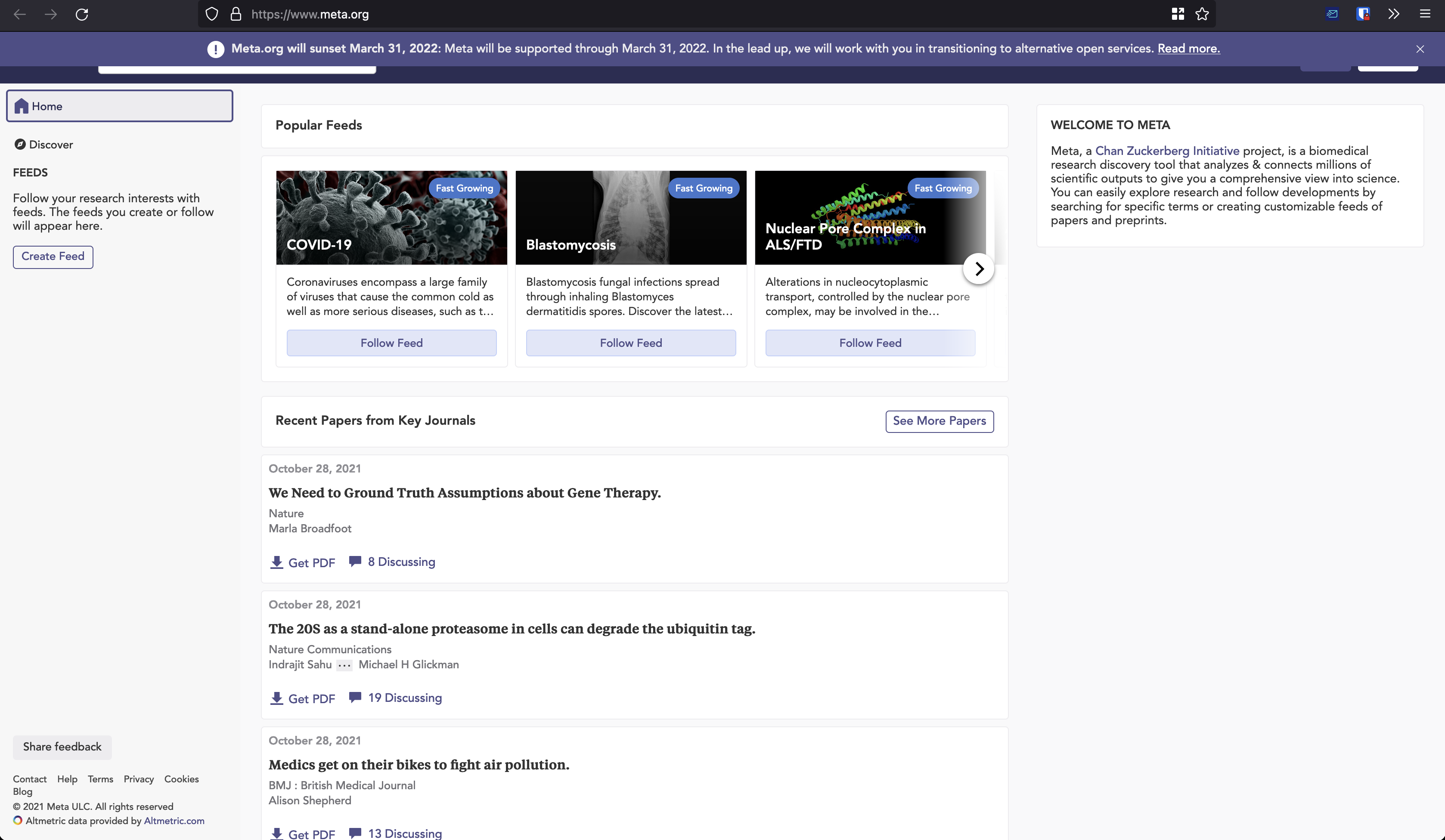 They say they will refocus on "more specifically defined domains". Well I guess if you read 'domains' as 'web domains', then I guess that is kind of true. Whatever biomedical philanthropy limps on will have an internet presence at some random subdomain, rather than ** literally the company's new homepage**, which is the real reason they are sunsetting.
See my sketch below on how I imagine C & Z might have made this decision.
Oct 28, 2021:
about.Facebook.com/meta becomes the homepage of the big announcement of the conference called "Facebook Connect 2021" (presumably named before this little rebrand), and is the spearhead of Zuck's attempts to rescue his company from negative PR & a plummetting share price.
Let's be clear: Zuck has actually siphoned an asset from his supposedly charitable arm which is actively engaged in tackling the global pandemic, for superficial branding purposes.
Some wags don't even think was worthwhile, e.g. @danielpunkass:


But then CZI is an LLC owned by Zuck, so I guess we shouldn't actually expect any philanthropy.
March 2022? :
once Meta.org is sunsetted, I predict a new Meta.com and Meta.(otherTLDs) webpages will be launched, as part of Zuck's bid to build Meta Platforms, Inc. the world's biggest company.
There's only 1 thing that's forever for Zuck and it ain't philanthropy.
---
A Sketch
The Place: the Work Room, the physical clone of Zuck's Workplace Horizon Work Room, Menlo Park, California, where he has several interns Working From (his) Home.
The Time: Last week, just after Zuck banned Priscilla from turning on the TV for fear of seeing "that woman" Frances Haugen
Zuck: 'Intern! Cleggy says we need a new parent company name, and fast. I'm obsessed with short futuristic brand names, do we have anything in our domain ownership roster? Maybe about the metaverse. Intern?!'
intern: 'nope nothing in our company database.'
Zuck: 'how about the CZI database?'
intern: 'you're charity database, but that's meant to be a totally separate organisation!'
Zuck: 'and you're meant to be at school."
intern: 'ughh well there is that Meta.com & Meta.org, but you said those would be for philanthropy forever'
Zuck: 'haha yeah! Priscilla believes it when I say things are forever. Like on our wedding day!'
Priscilla: 'what's that Mark?'
Zuck: 'oh hi Priscilla! Queen of my Californian Desert! Saving so many lives every day with all of our acquisitions!'
Priscilla: 'ahhh.. yes every since the first frog we kissed"
Zuck: 'who are you saying looks like a frog?"
Priscilla: 'no honey I meant Meta.com. The first company we made charitable 'forever' with a princely acquisition.'
Zuck: 'Yeah I know we said forever. But I think it's time to focus it on, on..'
intern: "more specifically defined domains"
Zuck: 'more specifically defined domains'
Other Promises
Let's imagine what other promises might not be kept. Please engage & repost with any other commitments CZI have made which you think should now be doubted. It's also going to be worth looking at other similar 'Philanthrocapitalism' efforts including "Good Ventures" by Zuck's old pal Dustin Moskovitz, who lets his wife Cari Tuna take care of day-to-day operations, but would presumably nick a domain if needed.
Their "Giving Pledge" was vague enough to start!
In their open letter to their son, they pledge to give 99 percent of their Facebook shares "during our lives" . Who knows, maybe this latest piece of linguistic gymnastics will allow them to escape yet:
a). 'ughhh, we don't have any Facebook shares anymore, we have Meta shares' b). 'my life is continuing on in the metaverse as an avatar controlled by you my son'
How about promises around 'Meta' itself? Even the meagre (<1% of the $10bn annual R&D) $50m "to ensure the metaverse is built responsibly" fund could probably be cancelled at a moment's notice on Zuck's whim.
As I wrote in my first piece in this series on FakeBook's rebrand - last night's quick-response piece - Internet 3.0 cannot be trusted with the 'visions' of a handful of billionaires. Let's make it better!
I will follow this up with a 3rd (and hopefully final) piece about Zuck's claim in his Announcment speech (here's a version without the filler) that the metaverse will "help the environment". I believe this will also be an unkept promise, and I'm putting forward a more likely future in Snowflakes in SoCal!.
Appendix: the prehistory of Meta.com
Meta.com which has been continually registered with GoDaddy since 1991 (!) making it one of the earliest registered domains.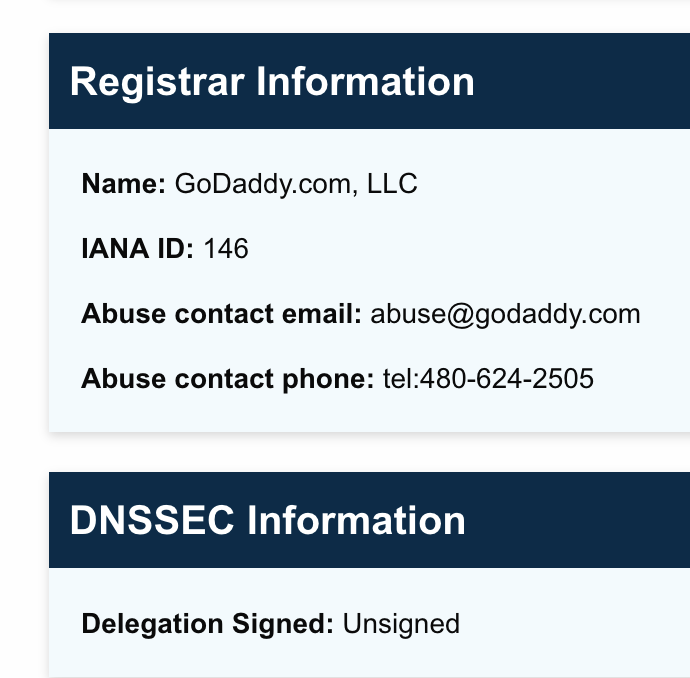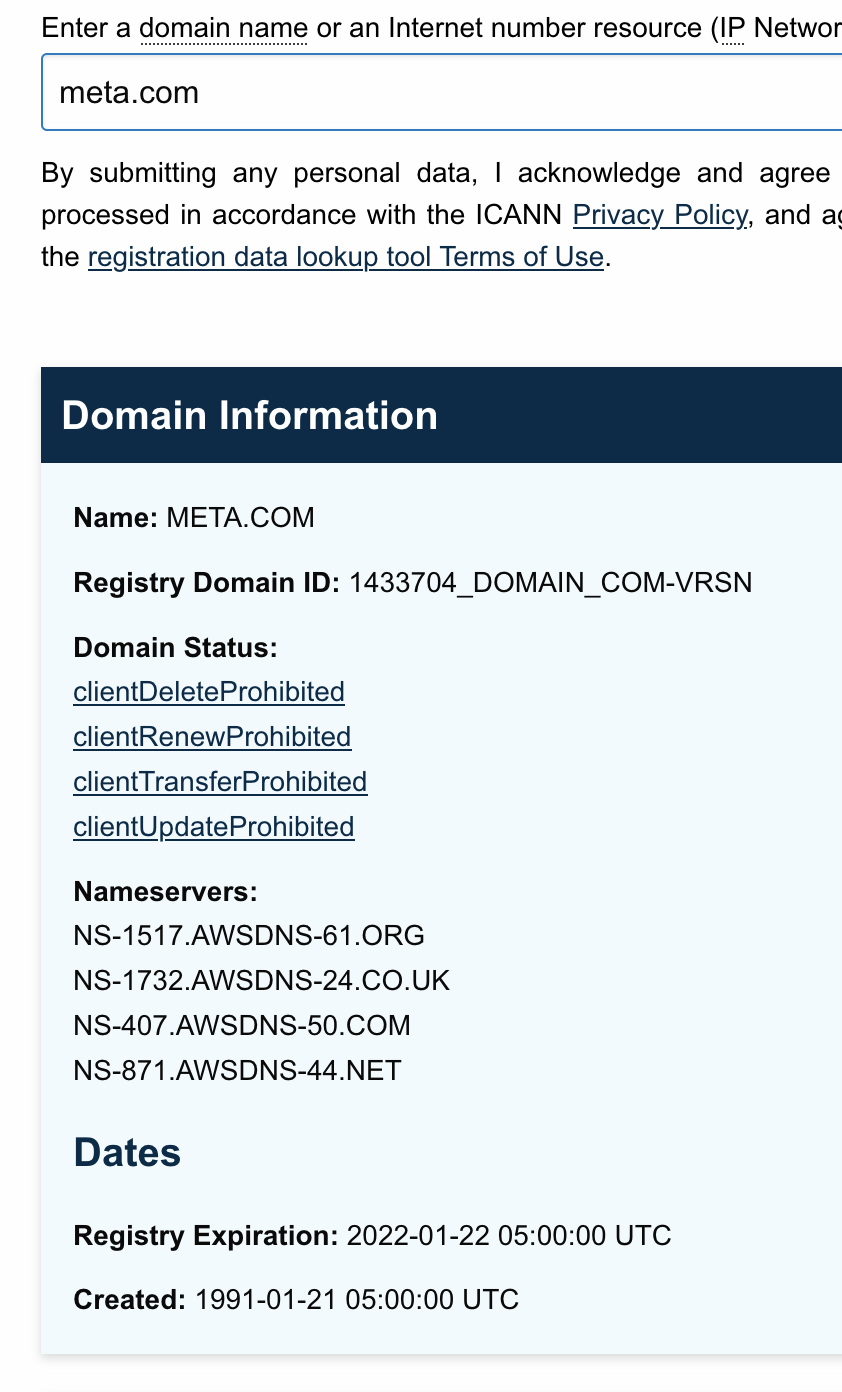 This time series gives a sense of the visit volume to the domain:
Here were some of the early efforts: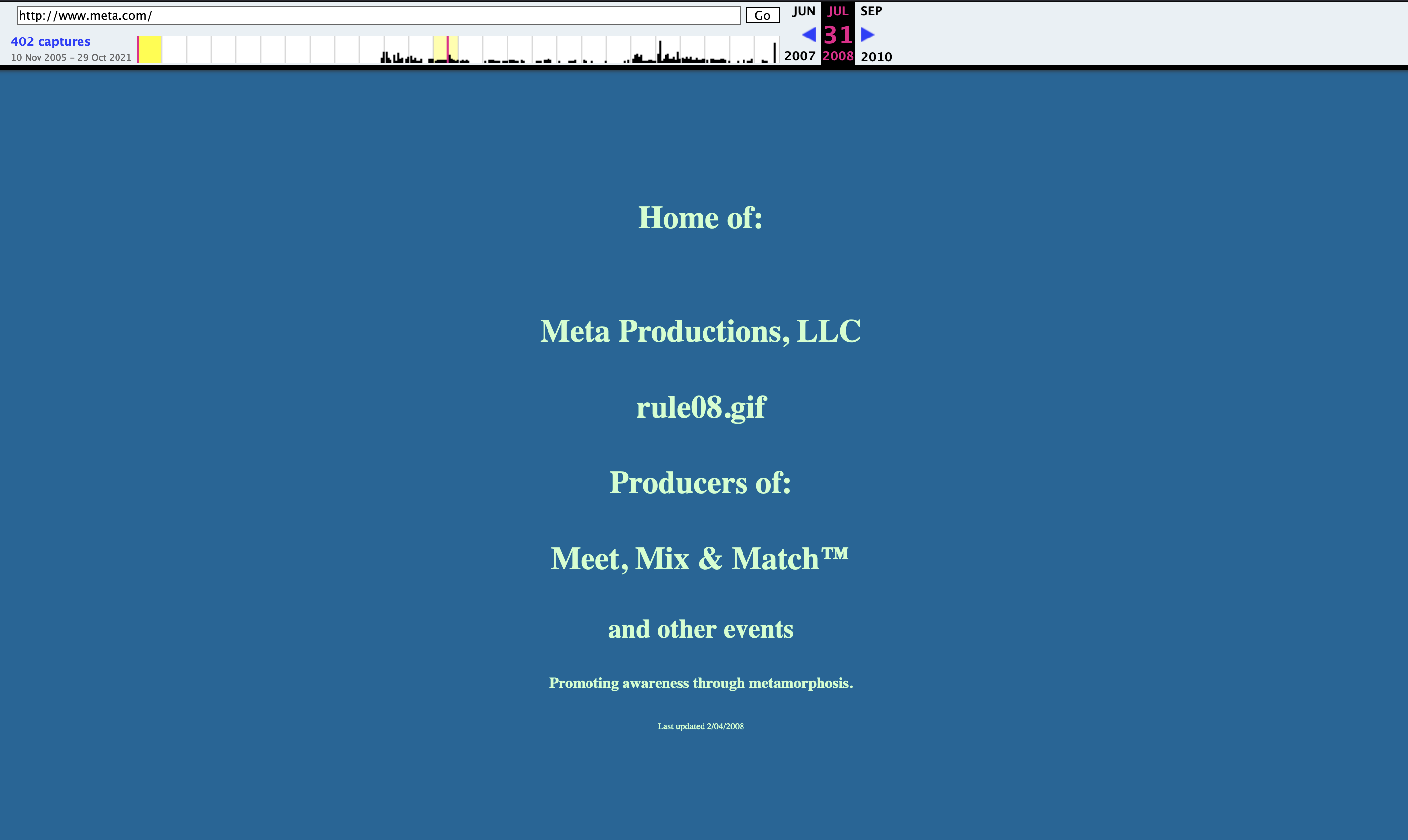 [Meta Inc. changed its name from Sciencescape Inc.](https://en.wikipedia.org/wiki/Meta_(academic_company), bought the domain and put up this waiting page in the mid-2010s:

I guess it was active in 2016, though the Wayback Machine pages won't load for me, until the CZI acquisition.
Incidentally, there was another company of the name of Meta - who lived at MetaVision.com - working in AR, who's founder made Forbes 30 under 30 for his 2013 patent on an AR eye glass. The company went downhill (probably ahead of its time) and dissolved in 2019.
I wouldn't have said this had he kept it as a really useful charitable inititiative, but now I feel confident to say: I hope Zuck's Meta goes the same way.
Correction
9th Feb: "initiative" title typo